GUIDELINES FOR ST. JOHNS COURT DISPOSAL SERVICES
In order for our waste contract to be carried out successfully, ALL RESIDENTS (owners and renters) will be responsible for complying with the following guidelines for the health, safety and security of our community.
THE BAD STUFF! - WHAT HAPPENS WHEN WE DON'T FOLLOW THESE GUIDELINES
When bins are overloaded or filled with unacceptable items Waste Management charges the community funding an additional  $60-to-$350 each time such as the example below:
BULK ITEMS
This is a common area of concern where we see many items, and we do not have an continuous agreement for bulk items such as mattresses, chairs, desk, and any other large pieces of furniture incorporated with our current contract. If you seek to remove of any bulk items for your unit please contact us & we can schedule a time that works best for you.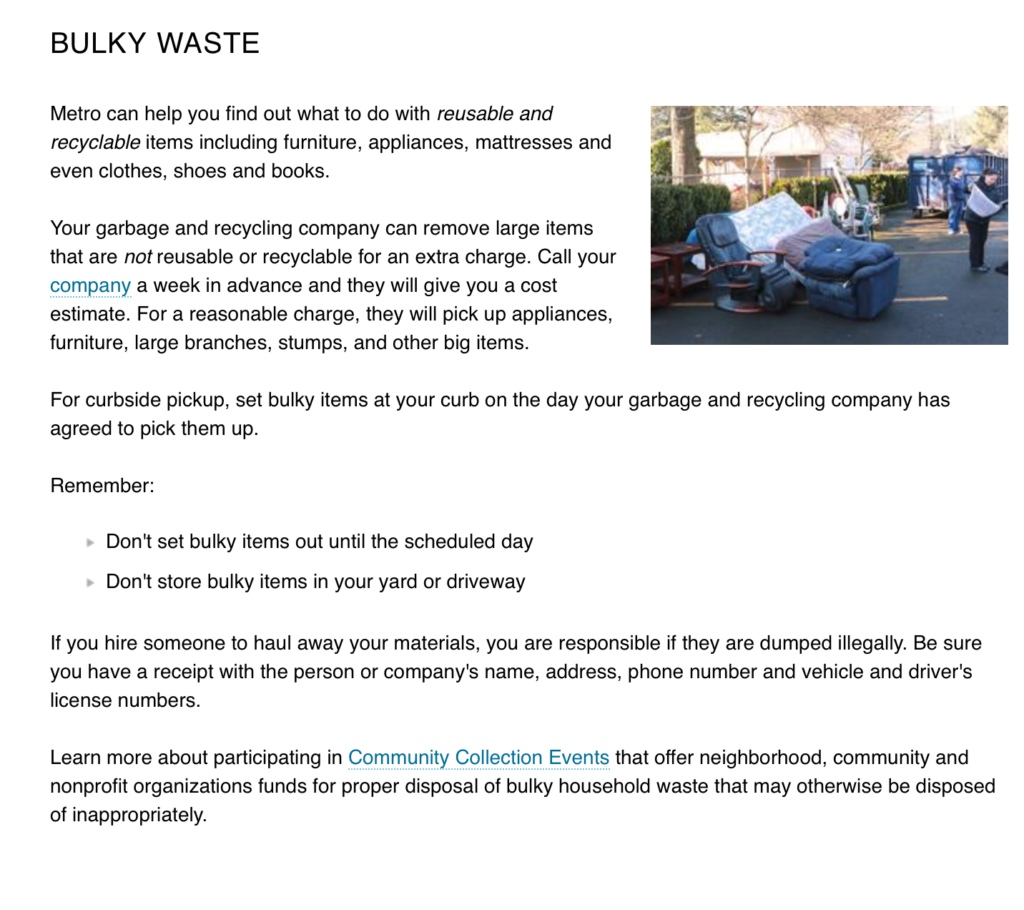 MIXED-RECYCLING:
Paper, metal, and hard plastic containers such as: Large laundry soap, juice, water/sodabottles, water jugs 5gal. or smaller, plantpots, clean & dry latex paint cans. IMPORTANT: ALL CARDBOARD OR CORRUGATED BOXES ARE TO BE EMPTY, BROKEN DOWN or STOMPED ON LEAVING ROOM FOR ALL RECYCLING MATERIALS TO FIT IN AND NOT IMPEDE THE BIN LID FROMCLOSING.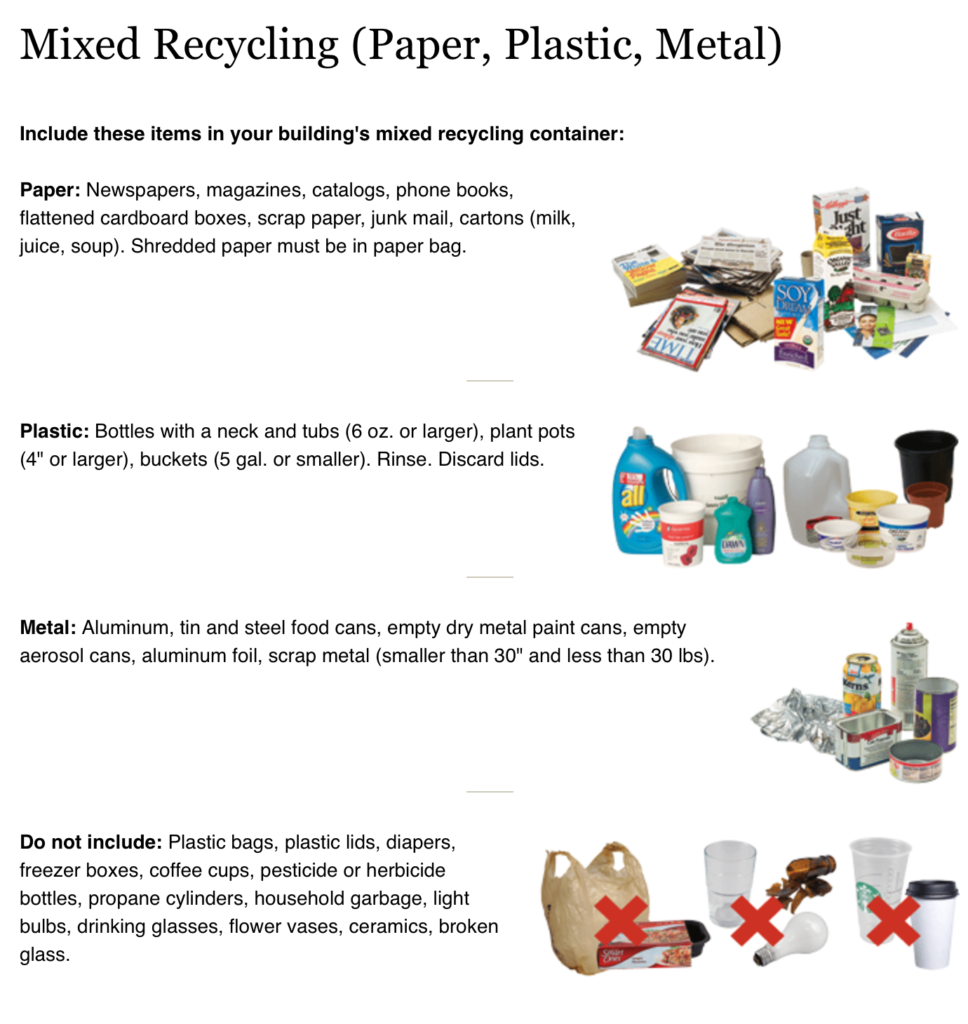 GLASS ONLY -- SMALL BLUE CONTAINER:
Glass must be clean with all caps or covers removed. Use care disposing of the articles as to avoid breakage. Under no circumstances are bottles to beleft outside the bin for pickers ordivers!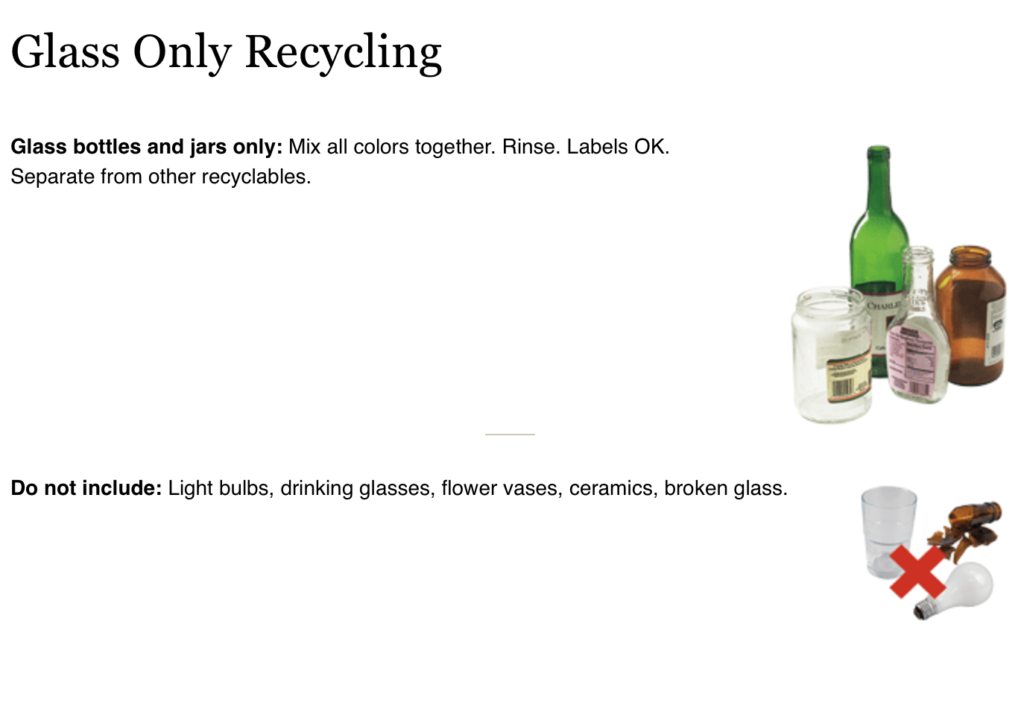 GARBAGE BIN
YES:
Used paper plates, coffee cups, napkins, towels, tissues, freezer boxes, takeout containers, painted/stained wood, Styrofoam, plastic bags, plywood and incandescent light bulbs--kitchen fats in closed containers,
Enclosed in bags: foodwaste, petwaste, feminine hygieneproducts, diapers, ashes, sawdust, packing peanuts, brokenglass.
NO:
Aerosol cans, all liquids, animals, antifreeze, appliances, asbestos, barrels, batteries, chemical products, computers, contaminated oils (mixed with solvents, gasoline, etc.), dirt, fluorescent tubes, hazardous or industrial waste, pest/herbicides, medical waste, lube/hydraulic/motor/transmission oils, microwaves, oil filters, other flammable liquids, paint (except completely dried latex paint cans, no liquids), petroleum-contaminated soil/lead paint chips, propane tanks, radioactive material, railroad ties, solvents, tvs, tires.
HAZZARDOUS WASTE
Contact Metro 1 (503-234-3000) to learn how to dispose of computers, monitors, tv's, hazardous waste, fluorescent light bulbs or other large items such as: furniture, mattresses, box springs, bed frames which will incur fines if placed outside.
*Images Sourced From The City Of Portland; To Learn More Please Visit: The City's Multifamily Waste Guidelines Page
Or Call: 503-823-7224 Email: multifamily@portlandoregon.gov